StackPath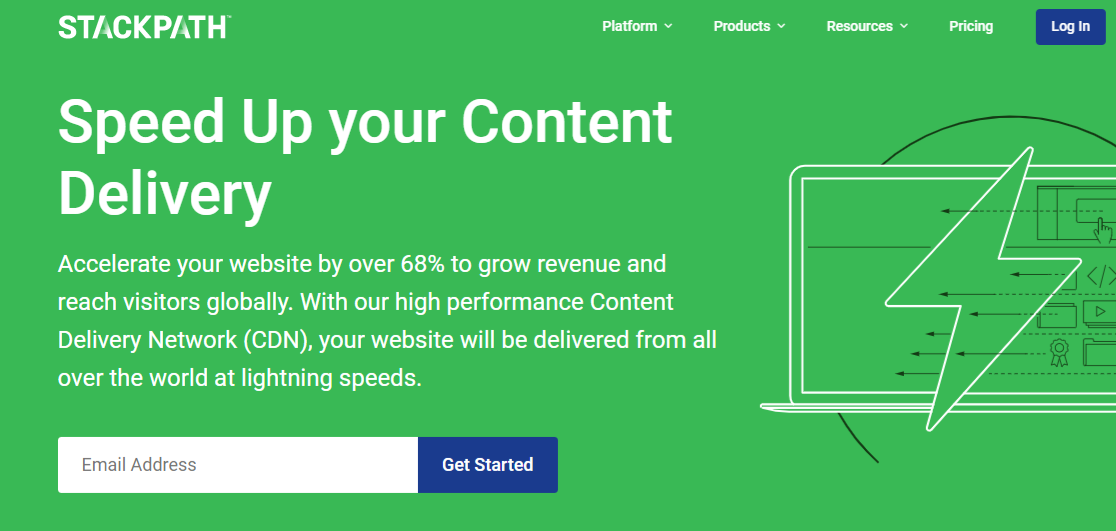 StackPath is one of the best CDN providers in the market. They acquired MaxCDN a few years ago to strengthen their service.
It comes with multiple data centres across the world, so it helps you improve the loading speed of your website. Plus, it comes with a private EdgeSSL certificate for free with their plan.
Stackpath is very easy to set up and allows you to monitor real-time analytics. It also comes with features like an intelligent caching system, Gzip compression, 301 redirects, and much more.
Unlike most CDN providers, StackPath offers security services including load balancing and blocking features for DDoS protection, plus a firewall along with their CDN service. And you have the option to either purchase just the CDN service or buy their bundle of different services.
Pros
Use on unlimited websites without any restrictions
Offers 1 TB (Terabyte) per month bandwidth with their basic plan
Free private EdgeSSL certificate
Multiple server locations across the globe
Comes with additional security services
Great for people in the west as they have 14 points of presence (PoPs) in North America and 9 in Europe.
Cons
They don't offer a free plan. However, you can use their one-month free trial to test their service
Price: StackPath offers different bundles and services at discounted rates. However, you can only purchase their CDN service at $10 per month.
Sucuri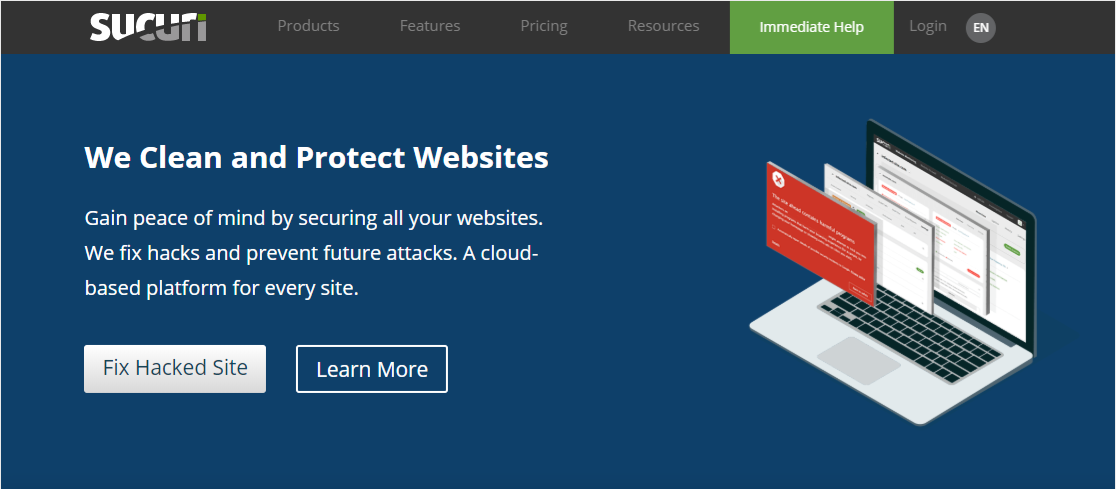 Sucuri is a popular website security company that protects your site from hackers, DDoS attacks, and malware. You can use their WordPress plugin to monitor and scan your website for security issues.
Along with their security features, they also provide CDN service to help you optimize your website for speed. Optimization with site speed is super important for SEO and tons of other reasons.
They use the best hardware and technologies required to improve the performance of your site. And they offer multiple caching options for different types of websites.
You may check out the Sucuri review on our sister site IsItWP for detailed information.
Pros
Unlimited bandwidth limit with every plan
Reliable website uptime
Offers security features along with their CDN service
Their support team is available 24/7 to help you solve your problems
DNS Monitoring that features warnings when your site's name servers, MX records, or IP address changes
Cons
Costly compared to StackPath
Doesn't offer any free plan
Price: Starting from $199 per year for a single website.
Cloudflare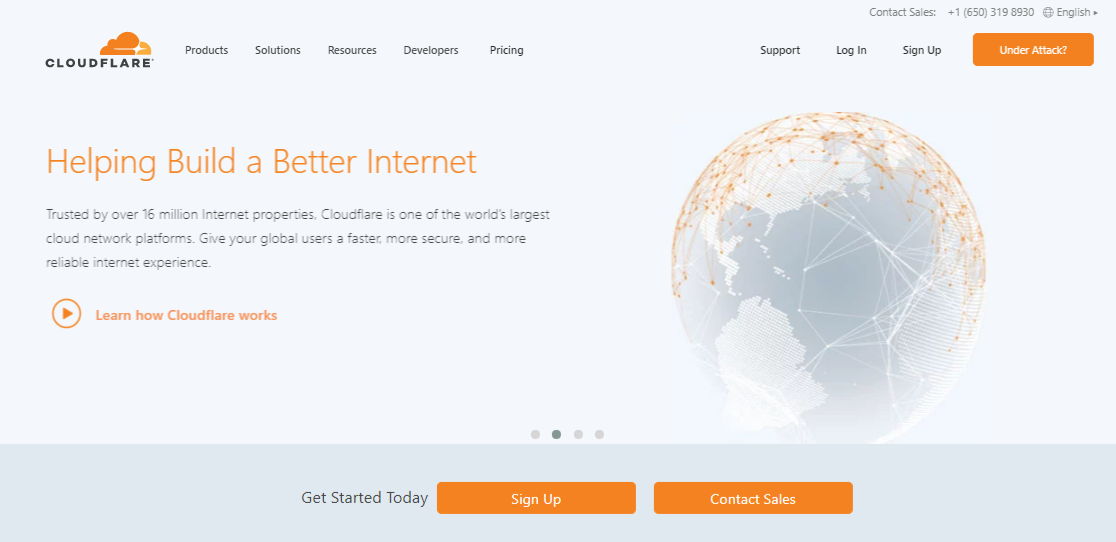 Cloudflare is one of the most popular CDN providers among bloggers, small businesses, and professionals. It comes with a free plan with no limitation on bandwidth. So that makes it one of the best free CDN providers for WordPress.
They have more than 180 data centres around the world. This can prove to be useful to improve the performance, speed, and security of your website.
You can easily set up Cloudflare on your WordPress site. It'll automatically cache the resources of your website, though you can purge or clear them from the control panel if you want.
One of the drawbacks of Cloudflare is you'll have to upgrade to a premium plan to use all their security features, unlike other CDN services like StackPath and Sucuri.
Pros
Easy to set up
Easily monitor the performance from the control panel
180+ data centers across the globe including North America, South America, Europe, Asia-Pacific, and Australia/New Zealand.
REST API lets developers take full control of what the service is doing
Cons
The free plan comes with limited features
You'll have to upgrade to their paid plans to use their chat or phone support
Since the free plan offers limited security features, your website may not be secure from DDoS attacks, malware, and spam
Price: Free. If you need extra features, then you'll have to upgrade to their premium plan starting from $20 per month.
KeyCDN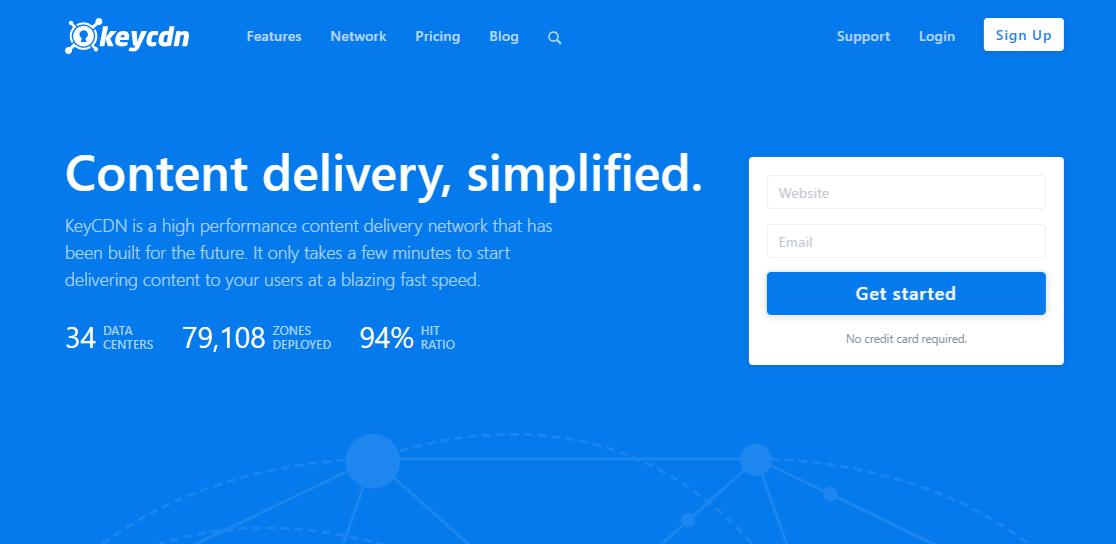 KeyCDN is another popular CDN provider on our list. You can easily integrate it to your WordPress site by using the CDN Enabler plugin.
They offer "pay as you go" plans to their customers, which means you only pay for what you use. Though this can be useful for low-traffic websites, the monthly bill may increase if you receive a lot of traffic to your site.
Some of the important features of KeyCDN include Gzip compression, real-time reports, instant purge options, two-factor authentication, DDoS protection, and much more.
Pros
34 data centers
Easy to set up on your WordPress site
"Pay as you go" plans
Customer support is available 24/7 at no additional cost
Cons
Doesn't offer a free plan
Limited security features compared to others
Price: Pay as you go, starting from $0.04 per GB
Rackspace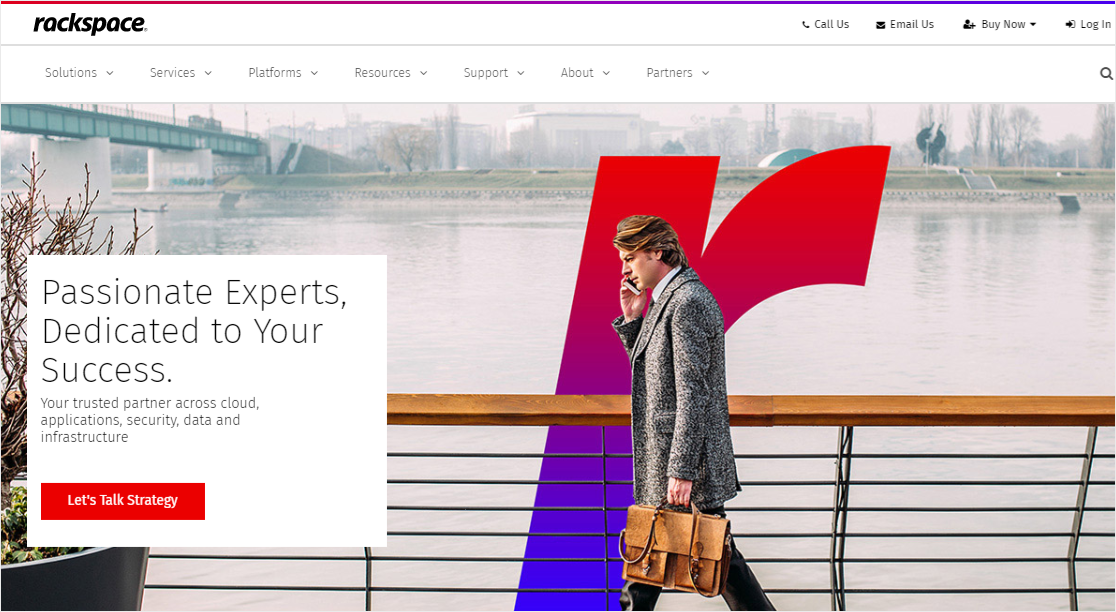 Rackspace is a popular managed and dedicated cloud computing service provider. They also offer CDN service to help you boost the performance of eCommerce sites, web applications, and other websites.
It uses the "pay as you go" pricing system just like KeyCDN. And you'll have to pay $0.16 per GB to use their service.
Rackspace is built on powerful cloud infrastructure, so you can expect your WordPress site to be fast. Also, it's present in more than 200 data centers around the world.
However, you should note that setting up Rackspace CDN is a bit complicated compared to other CDN providers on our list.
Pros
Powerful cloud infrastructure
200 centers across the world
"Pay as you go" pricing plans
Cons
Doesn't offer DDoS protection
Costly compared to KeyCDN
Configuring their service is a bit complicated compared to the rest
Price: Pay as you go, starting from $0.16 per GB
Google Cloud CDN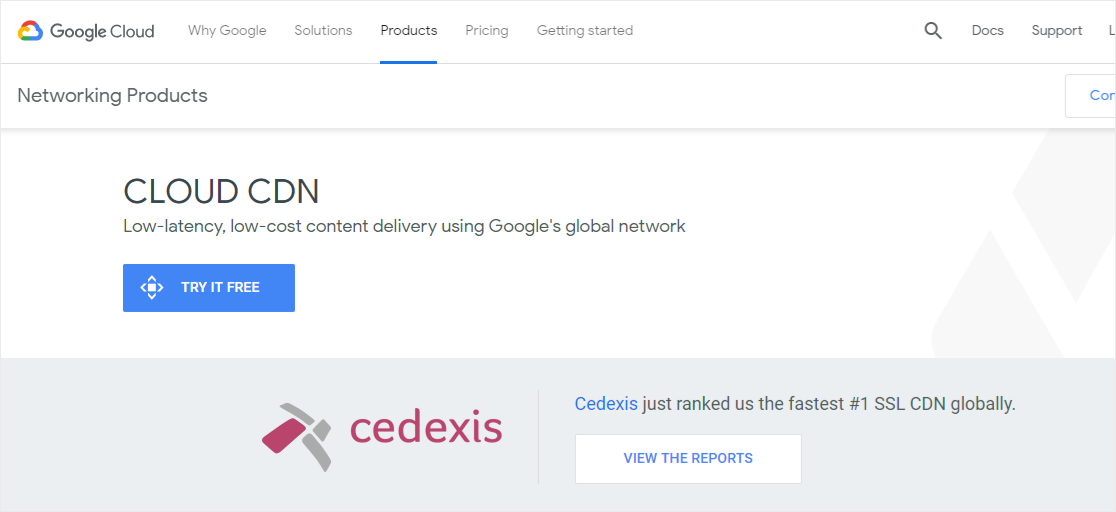 Google Cloud CDN is a low-cost content delivery service that uses Google's global network. They have data centers at 90 locations around the world.
It comes with an SSL certificate at no additional cost to secure your website. You can also seamlessly integrate it with the Google Cloud Platform.
Apart from the above, you even have the option to use their $300 free trial credit to test their service over the next 90 days.
Pros
90 data centers
Affordable pricing plan
Free SSL certificate
Offers a $300 free trial credit
Cons
Configuration can be difficult compared to others
Lack of proper support, you need to pay to get technical support
Price: "Pay as you go" pricing plans. They also offer a free trial to test their service.
CacheFly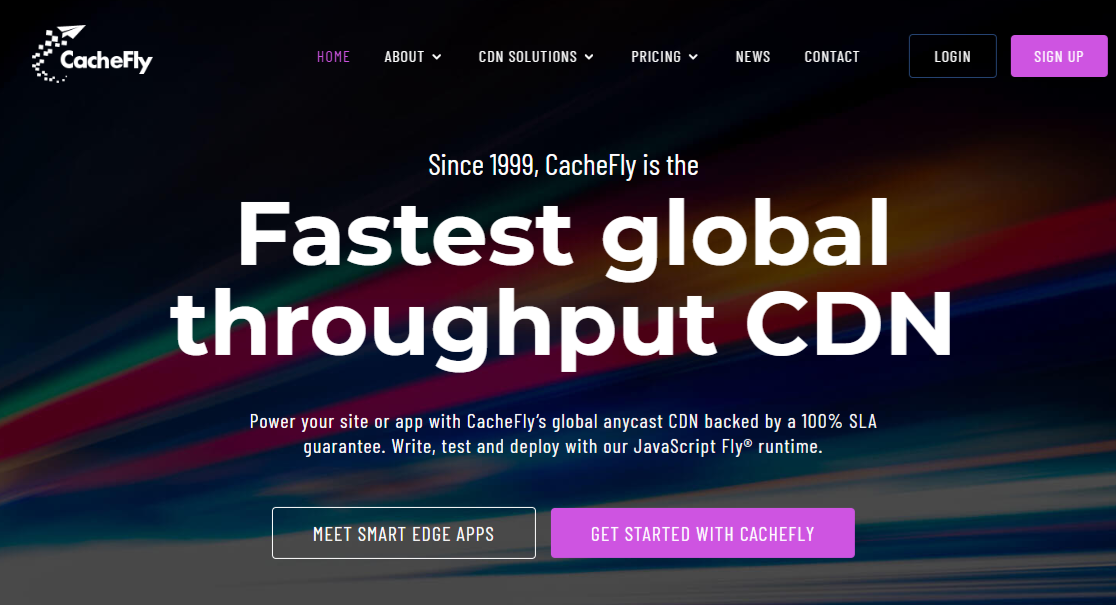 CacheFly is one of the oldest CDN providers in the market. You can use their service for video streaming and podcast streaming without any hassle.
It comes with an easy-to-understand interface, so you can manage everything easily. They also offer security features including DDoS and malware protection to protect your website from hackers.
One of the disadvantages of CacheFly compared to other popular CDN providers is it's very expensive. Their basic plan starts at $295 per month which is not suitable for most online businesses.
Pros
Simple dashboard to manage everything
Offers security features
Excellent support team
Cons
Very expensive compared to others
Price: Starting at $495 per month.
Amazon CloudFront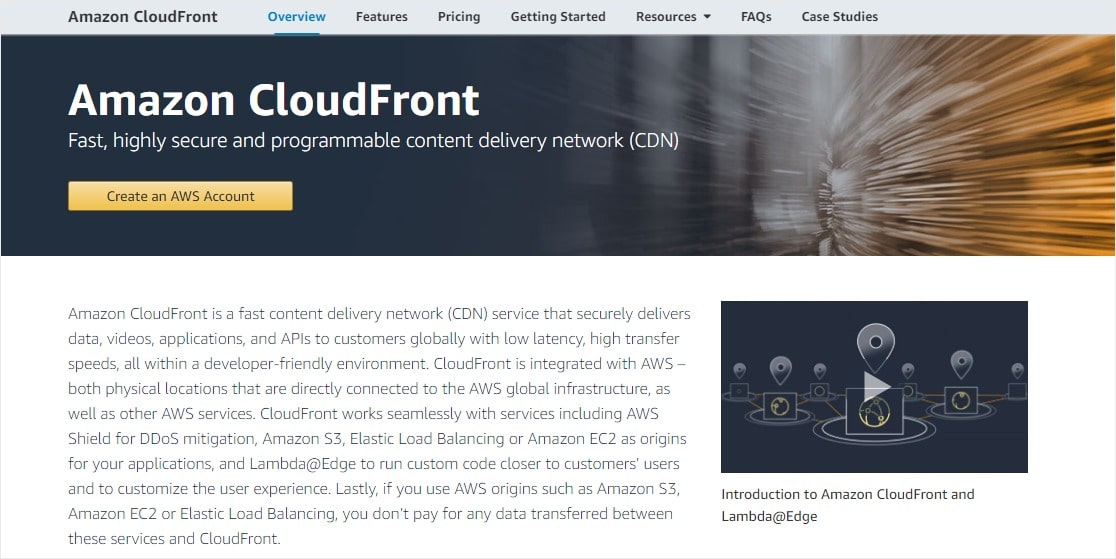 Amazon CloudFront is a popular CDN for websites offered by Amazon Web Services, especially because of its speed. Yes, it's very fast, but it's also very advanced. So, it may be better for programmers or developers instead of beginners.
Pros
Integrated with AWS
Instant deliverability of personalized and dynamic content
Hundreds of edge locations around the globe.
Cons
Can be difficult for people to use
Price: Pricing varies by location and is offered on a pay-as-you-go basis.